The hunt for talent is on. Most people involved in hiring will agree that finding top-level candidates is getting harder and harder. According to Manpower, 73% of all employers is having a difficult time finding skilled candidates.
As a result, recruitment marketing is emerging rapidly. This is the strategy aimed at finding, engaging, and converting candidates by using (online) content. Frequently used platforms are job boards such as Indeed and Glassdoor, and search engines offering SEA.

But recruitment marketing should always be a four-stage rocket, utilizing both job boards, search, social and display advertising.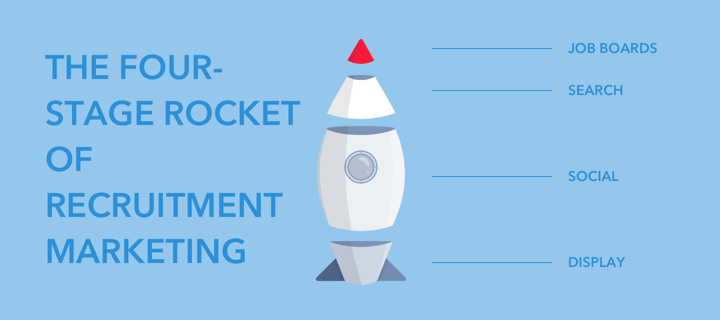 In our opinion, display advertising is crucial for recruitment marketing. It helps you to target higher-quality candidates, it enables you to reach passive job seekers and it offers retargeting purposes for potential applicants. While using job boards and search are used to reach active job seekers, social and display advertising can be used to focus on passive job seekers instead. Adding all four to your recruitment marketing strategy is a very valuable approach.

Let's take closer look.
Recruitment is marketing. If you're a recruiter nowadays and you don't see yourself as a marketer, you're in the wrong profession.
- Matthew Jeffrey, Head of Global Sourcing & Employer Branding at SAP

1. Laser-targeting your audience
Randomly posting and promoting openings on job boards can result in boatloads of applicants. Unfortunately, more reach also means more clutter and the majority of applicants will not have the qualities you're looking for. You will have to reject unsuitable candidates, and that's a loss for both sides. Candidates will be disappointed, and you will unnecessarily spend valuable time and resources on rejecting them.
With display advertising, you can laser-target your audience based on criteria that are relevant to a specific job opening, such as age, location and professional interests. By targeting your audience this accurately, you can make sure a job opening is only shown to people who are a great fit.
It even allows you to target potential candidates based on their online search behavior. If you are, for example, looking for a junior sales analyst, you can target candidates that have recently searched for "sales analyst job" or "junior sales analyst salary". The targeting options for display advertising are extensive and will definitely contribute to better hires.
According to Wordstream, the average cost per click (CPC) for job-related search ads is $2,40. The costs of sponsored job posting on Indeed range from $0.10 to $5 per click. The cost-per-click is for every user who clicks on your post, even if they don't apply. Display ads through Google Ads cost $0,50 per click.
2. Reaching passive jobseekers
Passive candidates make up an estimated 80% of the workforce. This is a valuable audience, especially in the final stages of recruitment. Passive candidates are less likely to also look at competing offers and tend to stay in jobs 21% longer than active candidates.
Reaching passive job seekers is therefore an important part of a successful recruitment strategy. But passive candidates don't frequently visit job boards and they don't use search engines to find a new employer. That's why display advertising is such a great way to reach them.

Display advertising allows you to simply publish job advertisements on all websites, apps and other online platforms that your ideal candidate frequently visits.
3. Retargeting to convince non-converting candidates
It's probably every recruiter 's dream for candidates to convert right after their first glance at a vacancy, but unfortunately that's usually not the case. Even with the best recruitment strategies in place, persuading talent to apply is difficult.
People often have a short attention span. Especially online. If potential candidates land on your job opening, they click away sooner than you can say "six figure salary". After leaving, they often don't return. This doesn't necessarily mean that your content isn't good enough, or that candidates do not take an interest in what you have to offer. They might just need some persuasion to take another look, or a reminder that the job is still available.
Hence why retargeting is of such value. Retargeting means that potential candidates will see your job ad again, after engaging with your content. You can reach out to them across channels and devices, urging them to apply once more. In general, website visitors who are retargeted are 43% more likely to convert. So, giving your non-converting candidates a little nudge might prevent you from missing out on top-level hires.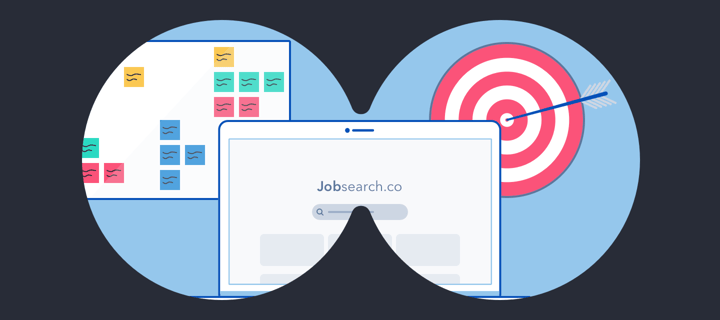 But wait, there's more…
The list of benefits doesn't end here. Display even contributes to employer branding. Create ads that share your company story to spark an interest and to brand your business. The next time your candidate is looking for a new job, you'll be top of mind.
Whatever your goals are, we believe display advertising really uplifts every recruitment marketing strategy. Let's launch that four-stage rocket of search, job posting, social and display advertising. It's time to shoot for the moon.