For some brands, display advertising is a continuous struggle. The increasing amount of screen types and ad sizes put major pressure on their production process. Either because they don't have the time to create all required sizes, or because they lack the design and development skills to create professional-looking ads.
To solve this issue, Google decided to launch Responsive Display Ads. This is their newest, default ad type for the Google Display Network (GDN).
What are Responsive Display Ads?
Responsive display ads (RDAs) are automatically created by Google, using assets that you provide, such as images, headlines, logos, videos, and descriptions. Based on your input, Google automatically assembles your ads, and adjusts their size, appearance, and format to fit just about any available ad space on the Google Display Network. Responsive display ads can be used in standard and smart display campaigns.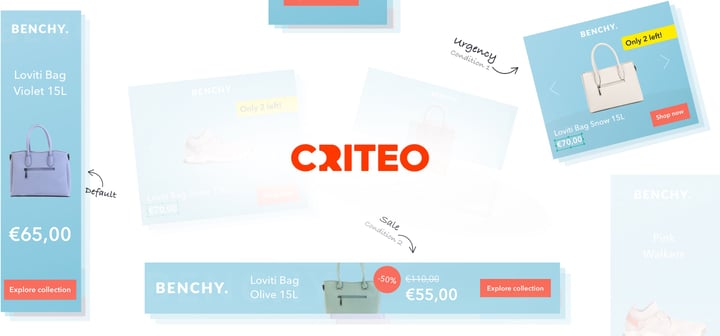 What are the benefits of using Responsive Display Ads?
Google launched Responsive Display Ads to help advertisers adapt to the increasingly diverse mix of content types and screen sizes. RDAs are said to expand reach and improve performance on several levels.

We've closely examined Responsive Display Ads, and we believe the benefits are twofold:


Responsive Display Ads help save time and money
As you may know, Google already supports over 20 ad sizes. But for advertisers and agencies that are short of designers and developers, creating large amount of ads might be an issue. When you use Responsive Display Ads, Google automatically combines your assets to fit the increasingly diverse mix of content types, devices and screen sizes.
Basically, you only need to create a handful of images, some headlines and a logo to have an endless list of combinations. If you want to have an extensive number of ads, but you lack resources for digital ad production, RDAs seems like a decent solution.
Responsive Display Ads might generate better results
As mentioned above, the more ad sizes you have, the better your reach. As a rule of thumb, you need at least the "Big Three" (Medium Rectangle, Leaderboard and Wide Skyscraper) to have a 'decent' exposure. If you want to increase your reach even further, you need other ad sizes too.
Since Google creates all ad sizes for you, your ad can basically fit any available ad space on the Google Display Network. An RDA can be shown as a dynamic text ad, but also as a native ad.
Tapping into a native inventory extends your reach significantly. It even results in a higher CTR and a lower CPC. Since native ads look like regular content, rather than a display ad, their CTR is generally higher. A higher CTR equals a higher Quality Score, which generally results in a reduced CPC.
The three critical elements of a display ad are the image, message, and design. This outlines how to create effective responsive display ads so that you can drive better performance with your campaigns.


- Google
We said "might"...
According to some experts, Responsive Display Ads also result in a better conversion rate. Internal research by Google itself showed that on average, advertisers see 10% more conversions at a similar CPA when using multiple headlines, descriptions, and images with responsive display ads versus a single set of assets. Search Engine Journal reported that one of their experiments with Responsive Display Advertising resulted in a 0.54% conversion rate, while their standard display ads converted in 0.10% of the time.

When we ran a similar experiment for fashion retailer Brandfield, we noticed that Responsive Display Ads based on a non-branded template do not perform better than custom, branded display ads. In contrast to what you might expect, the customized display ads had a lower CPA and a higher conversion rate.
Running this experiment several times, we learned that customization paired with thorough testing is essential for generating the best results.
The disadvantages of Responsive Display Ads
That brings us to the downsides of Responsive Display Advertising. After uploading your assets, all RDAs are created automatically. The designs are based on a generic template. This might sound like an ideal situation, but handing over all control to an algorithm also calls for cautiousness.
Lack of branding
One of the biggest disadvantages of using Responsive Display Ads is that they're all based on generic templates. In other words: Google doesn't create your ads any differently than those of your competitors. Especially when it comes to texts ads, it's really difficult to see the difference between the one brand and the other.

In the long run, a lack of branding can result in lower conversion rates. Either because the ads don't contribute to so-called 'repurchase agreements', but also because bad branding leads to the perception that products are of lower quality.

Imagine you're an exclusive shoe brand, and your ads look similar to any high-street brand.
That's probably not the look you're going for.
No control
Aside from the lack of branding, you also can't decide what combinations that are made with the provided assets. This means that texts can randomly be paired with images, and not all combinations are acceptable. It's also not possible to determine the amount of products shown in an RDA, while in some cases less products perform better.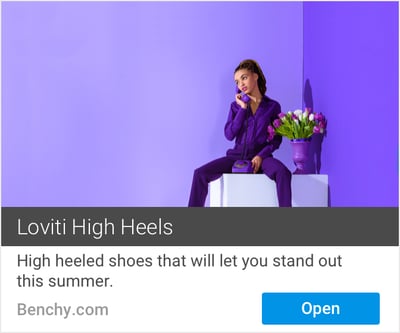 Image and text combinations don't always make sense.
Less insights
Another disadvantage of Responsive Display Ads is the lack of insight. When you run a campaign with Responsive Display Ads, your ads are 'tested' by Google for a period of time to determine the optimal combinations. After that, Google continues serving the ads that - according to their algorithm - perform best.
You will receive an overview of the performance of each asset, but unfortunately the data segments Google provides are limited. The network only gives you four criteria when estimating your ad's performance: learning, low, good, and best. It doesn't offer you any insight into which ad size, combination or format was shown at any given time, meaning you have to trust Google when it comes to their judgment on serving ads.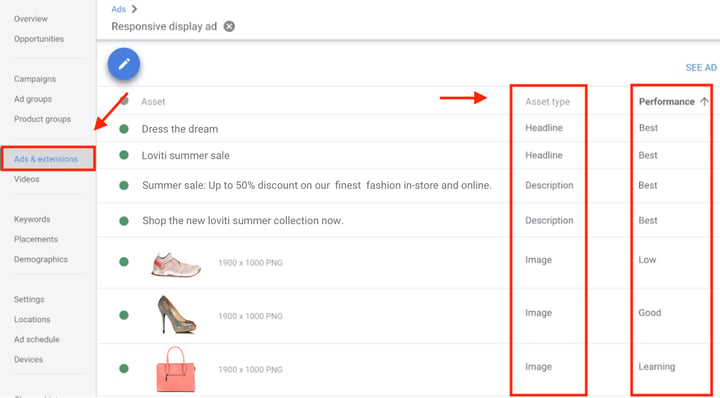 Customized or Responsive Display Ads?
In sum, we'd say Responsive Display Ads can be a huge relief for advertisers on a tight budget or with limited time on their hands. For them, their extended reach is certainly a great benefit.
As mentioned above, Responsive Display Ads aren't suitable for everyone. If you are a more mature brand and you want to keep control over your creatives, RDAs aren't your best option. Their limited insights and a lack of branding are something to be wary of, because these downsides can ultimately limit your performance. Customized Display Ads will then surely generate better results.


The rule of thumb here is to always do your research and carefully assess whether a form of advertising meets your goals. Responsive Display Ads are a great feature when you want to save time and money. However, sometimes it's better to turn to other solutions instead, so you customize your ads and improve your ROI as a whole.
Did you know that both Responsive Display Ads and Customized Display Ads support the use of video assets? In our opinion, video shouldn't be the decisive factor when it comes to choosing between RDAs and CDAs. But the ability to use branding is.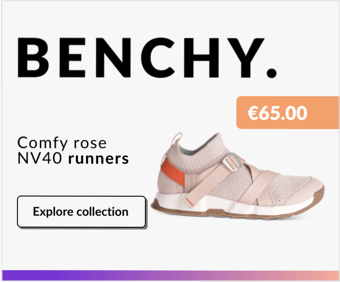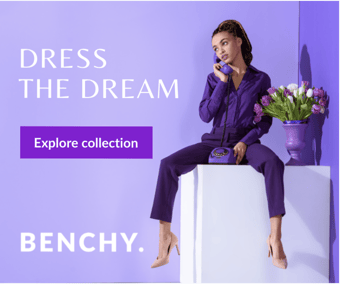 Two examples of customized dynamic ads created with a Creative Management Platform.